Regional Sales Manager (all genders)
SLM Solutions Na, Inc.
Published: 2023-09-14
published till: 2023-10-14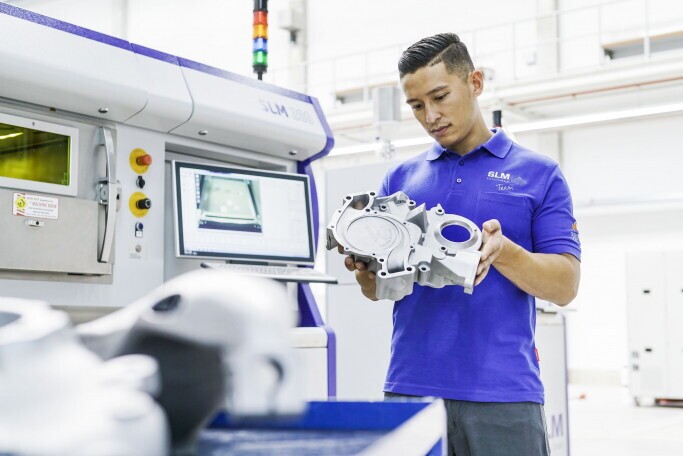 BENEFITS:
Comprehensive health coverage including medical, dental, and vision
401(k) plan and 4% company match
Holiday pay and Paid Time Off
Paid parental leave (maternity and paternity)
Tuition and gym reimbursements
Company-paid disability and life insurance
SLM Solutions is an Equal Employment Opportunity (EEO) employer. All qualified applicants will receive consideration for employment and will not be discriminated against on the basis of race, color, religion, sex, sexual orientation, gender identity, national origin, age, veteran status, disability status, or genetic information; U.S. citizenship or Green Card required.
POSITION DESCRIPTION:
The SLM Solutions Regional Sales Manager sells industrial additive manufacturing equipment and peripherals by performing the following duties.
Prospect and close new accounts through direct sales efforts.
Generate repeat orders through superior customer service and relationship management. Contribute to market research and market analysis, including competitive strategic analysis. Develop and maintain a customer, and prospective customer, database using the Company CRM system.
Identify and participate in regional and national trade shows, exhibits and conferences.
Support trade show organization and planning.
Participate in sales meetings and take responsibility for sales improvement initiatives and other assigned action items.
Perform sales reporting functions on an ongoing and timely basis.
Follow up with customers to respond to inquiries, solicit further sales, and solve or refer problems. Qualify lists of prospects from trade shows, e-marketing, trade and professional association membership lists, and other public records.
Travel through assigned territory to call on existing and prospective customers to solicit orders.  Quote prices and terms and review purchase orders for compliance to the quote.
QUALIFICATIONS AND REQUIREMENTS:
The requirements listed below are representative of the knowledge, skill, and/or ability required. Reasonable accommodations may be made to enable individuals with disabilities to perform the essential functions.
Experience selling into the targeted sales territory.
Must be able to translate product features into benefits for the customer.
Effective and fair negotiator.
Quickly build trusting relationships with customers and prospects.
Superior telephone communication skills.
Effectively balance customer and company needs.
Separate the real opportunities from the information gatherers.
Experience developing and delivering professional sales presentations in person and via web meetings.
Ability to read, analyze, and interpret general business periodicals, professional journals, or technical procedures.
Ability to write clear and concise reports and business correspondence.
Ability to effectively present information and respond to questions from groups of managers, peers, and customers.
Must be able to travel domestically and internationally up to 50%.
Computer literacy in Microsoft Office products.
Competencies:
Must be an organized, goal-oriented, self-starter who is able to manage him/herself to plan. Proficient at asking for the order.
Analytical - Synthesizes complex or diverse information; collects and researches data.
Use of Technology - Adapts to new technologies; uses technology to increase productivity. Mathematical Skills - Ability to calculate figures and amounts such as discounts, interest, commissions, proportions, percentages, area, circumference, and volume.
Problem Solving - Identifies and resolves problems in a timely manner; gathers and analyzes information skillfully; develops alternative solutions; works well in group problem solving situations. A Positive and persistent attitude is essential.
Communications - Exhibits good listening and comprehension; keeps others adequately informed. Listens and gets clarification; responds well to questions.
Cooperation - Establishes and maintains effective relations; exhibits tact and consideration; works actively to resolve conflicts.
Other Desired Qualifications:
Bachelor's degree in Mechanical or Manufacturing Engineering, or the equivalent experience.
5+ years of sales experience selling high-technology capital goods ($740,000 - $1.5M)
CRM database experience.
Knowledge of Additive Manufacturing.
YOUR NEW WORKPLACE:
We offer you a versatile and responsible scope of duties in a global business. You can expect colleagues on an equal footing, flat hierarchies, a strong team spirit and a "can do" working atmosphere.
We like to describe ourselves as a company with a start-up atmosphere, because with us you get the best of both worlds: a dynamic, future-oriented work environment with the advantages of a corporation.

We are a company of diversity, tolerance and openness. That is why we want people of all ages and disabilities, religions, sexual orientations and identities, ethnic origins, nationalities and genders to find their employer in us.

Do you want to change the future of additive manufacturing and become part of our success story?
WHO WE ARE:
SLM Solutions Group AG is one of the world's leading companies in additive manufacturing. Our Selective Laser Melting machines enable the fast, reliable and cost-effective production of high-quality metal components. With our more than 600 employees from over 25 nations, we are revolutionizing additive manufacturing and are a partner at eye level for our renowned customers, e.g. from the aerospace industry, the energy sector, healthcare or the automotive sector.

SLM Solutions Group AG is headquartered in Lübeck, Germany, with offices in China, France, India, Italy, Singapore and the United States.
 
HOW TO APPLY:
Apply directly via our online application tool. Unfortunately, we cannot consider applications by e-mail. 
We look forward to your application.

You have any further questions? Please feel free to contact us.

Your HR Recruiting Team
SLM Solutions Group AG 
 
Raymond Brown
HR Recruiter