Senior Model Integration Engineer (Pneumatics and Hydraulics) (m/f/d)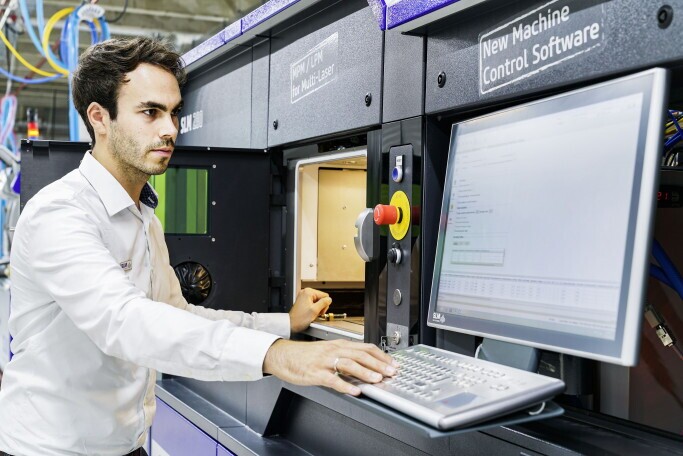 BENEFITS:
Diverse, global, growing organization with flat hierarchies in a trend-setting industry
A versatile and responsible field of activity in a fast growing and international company
A future-proof job with the innovation leader in the AM market
Work with a great team, the coolest L-PBF technologies and top-notch companies
Modern structures and state-of-the-art technology
Great colleagues from over 25 nations
30 days of holiday
Kindergarten subsidy
Corporate benefits
POSITION DESCRIPTIONS:
You take a lead role in the development and delivery of high-level pneumatic and hydraulics solution design, as well you are responsible for ensuring system designs are completed to requirements
Work closely with cross-functional team and external partners to define interfaces
Develop design solutions for pneumatic and hydraulic systems, generate schematics, specify (and source) pipes, fittings, valves, hoses, manifolds, servos, switches, threaders, crimpers, and other relevant components
Create, maintain, review and release designs of Pneumatic/Electro-Pneumatic Circuits, piping and instrumentation diagrams (P&ID) and associated parts and assembly drawings
Knowledge of corrosion, cooling fluids, material selection and component tolerances to ensure efficient and robust solutions
Design and simulation of pneumatic circuits with FluidSim, FluidDraw, E-Plan fluid and similar platforms as well as preparing technical documents is part of your tasks
QUALIFICATIONS AND REQUIREMENTS:
Bachelor's, Master's, or PhD in an engineering field (Mechanical, Aerospace)
2+ years of experience designing pneumatic and hydraulic systems, including knowledge of power, fluid, thermal and performance calculation methods, in the automotive, aerospace, food and beverage or general equipment industry
Knowledge with Automation (FluidSIM, E-Plan fluid etc.) of a complex mechanical system
Your excellent knowledge and experience with the selection of OEM pneumatic and hydraulic components with an emphasis on performance and reliability sets you apart
Proven experience in creating designs and high-quality drawings with GD&T using 3D and PLM software such as Siemens NX and Teamcenter, Inventor and Vault
Knowledge and experience with creating and reading P&ID diagrams, as well as knowledge of design standards
YOUR NEW WORKPLACE:
We offer you a versatile and responsible scope of duties in a global business. You can expect colleagues on an equal footing, flat hierarchies, a strong team spirit and a "can do" working atmosphere.
We like to describe ourselves as a company with a start-up atmosphere, because with us you get the best of both worlds: a dynamic, future-oriented work environment with the advantages of a corporation.

We are a company of diversity, tolerance and openness. That is why we want people of all ages and disabilities, religions, sexual orientations and identities, ethnic origins, nationalities and genders to find their employer in us.

Do you want to change the future of additive manufacturing and become part of our success story?
WHO WE ARE:
SLM Solutions Group AG is one of the world's leading companies in additive manufacturing. Our Selective Laser Melting machines enable the fast, reliable and cost-effective production of high-quality metal components. With our more than 500 employees from 25 nations, we are revolutionizing additive manufacturing and are a partner at eye level for our renowned customers, e.g. from the aerospace industry, the energy sector, healthcare or the automotive sector.

SLM Solutions Group AG is headquartered in Lübeck, Germany, with offices in China, France, India, Italy, Singapore and the United States.
 
HOW TO APPLY:
Apply directly via our online application tool. Unfortunately, we cannot consider applications by e-mail. 
We look forward to your application.

You have any further questions? Please feel free to contact us.

Your HR Recruiting Team
SLM Solutions Group AG 
Kristin Kahl
Talent Sourcer