System Engineer Technical Compliance (m/f/d)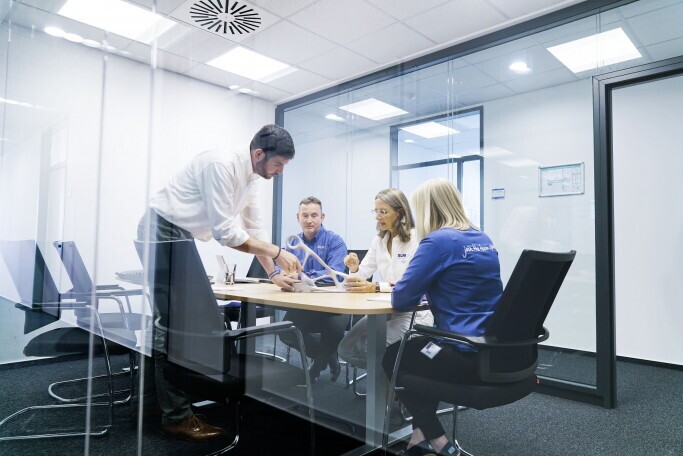 BENEFITS:
collective agreement of the chemical industry
37,5 hours/week
30 days of holiday
holiday pay
13th salary
mobile work
flexitime
company pension plan
kindergarten subsidy
Jobrad
POSITION DESCRIPTIONS:
You are the specialist contact with external product safety and technical documentation suppliers with the target to insource core product safety and technical documentation standards know how
This includes, but is not limited to, managing of external partners supporting SLM technical documentation and safety risk assessment activities
The System Engineer Technical Compliance is responsible for compliance demonstration of SLM products to safety regulations and to the safety risk assessment in accordance to DIN EN ISO 12100:2010
Furthermore, you demonstrate compliance of the implemented system to the safety requirements, especially the achieved performance levels in accordance DIN EN ISO 13849
You derive requirements on the safety functions of the SLM products
Preparing, releasing, and maintaining technical documentation (Service documentation, Customer documentation, Training documentation and applicable Design documentation as defined in the purpose chapter), especially the manuals of the SLM products, is part of your tasks
You manage the localization of the SLM products and their documentation for the customer markets, which includes also preparation of paperwork required to show compliance of SLM product versus local laws and/or CE conformity and organize technical documentation translations as appropriate/required
QUALIFICATIONS AND REQUIREMENTS:
Bachelor's or Master's degree or equivalent certification in the field of engineering - 5+ years of work experience is a strong plus
Technical/Industrial engineering studies in mechanical field or proven experience as editor of technical documentations for leading edge technology products
Expert knowledge and/or specific training in technical documentation and translations standards as well as XML based Content Management
You have a general knowledge in safety assessment in machinery safety or other safety critical products, i.e. aerospace or medical applications
Solid knowledge and/or training with/in European Directive 2006/42/EG and especially with DIN EN ISO 12100-2010 and DIN EN ISO 13849
You have professional experiences in reading and understanding qualitative and quantitative results of a safety assessments
Your experiences in execution of V-lifecycle process especially under the aspect of safety engineering set you apart
You are fluent in English and the bility to anticipate potential industrialization issues and address design in advance to overcome them complete your profile
YOUR NEW WORKPLACE:
We offer you a versatile and responsible scope of duties in a global business. You can expect colleagues on an equal footing, flat hierarchies, a strong team spirit and a "can do" working atmosphere.
We like to describe ourselves as a company with a start-up atmosphere, because with us you get the best of both worlds: a dynamic, future-oriented work environment with the advantages of a corporation.

We are a company of diversity, tolerance and openness. That is why we want people of all ages and disabilities, religions, sexual orientations and identities, ethnic origins, nationalities and genders to find their employer in us.

Do you want to change the future of additive manufacturing and become part of our success story?
WHO WE ARE:
SLM Solutions Group AG is one of the world's leading companies in additive manufacturing. Our Selective Laser Melting machines enable the fast, reliable and cost-effective production of high-quality metal components. With our more than 500 employees from 25 nations, we are revolutionizing additive manufacturing and are a partner at eye level for our renowned customers, e.g. from the aerospace industry, the energy sector, healthcare or the automotive sector.

SLM Solutions Group AG is headquartered in Lübeck, Germany, with offices in China, France, India, Italy, Singapore and the United States.

HOW TO APPLY:
Apply directly via our online application tool. Unfortunately, we cannot consider applications by e-mail.
We look forward to your application.

You have any further questions? Please feel free to contact us.

Your HR Recruiting Team
SLM Solutions Group AG
Inken Schmidt
Talent Acquisition Specialist